Weather
Situated high up on the Deccan Plateau, Karnataka enjoys cooler, less humid weather than most of the country, allowing us to keep the retreat open throughout the year.
Bangalore is blessed with mild weather throughout the year, making it a round-the-year destination. March and April are the warmest months, with a high of about 35 degrees Celsius, and December is the coolest, with a low of 10-12 degrees Celsius. The rainy months are September and October, but shower spells in Bangalore are usually short and largely during late evenings / night time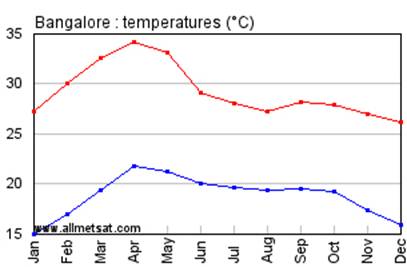 December - January is wintertime in Bangalore and the coolest time of the year. However Bangalore does not have extreme temperatures; even Bangalore's winter climate has plenty of sunny weather and blue skies. Daytime winter temperatures in Bangalore stay between 20°C / 68°F, and 26°C / 79°F. However, the temperatures at night-time are known to drop to around 10-12°C
The weather in December & January is arid with visually no rain
The weather in February is pleasant, with a high and low of 30 and 18 degrees Celsius respectively.
Summers (March to May) are very warm with a maximum temperature of 36°C
In April, just when the weather begins to get hot all over India, Bangalore has April showers which help to keep the weather cool.
The weather in May is warm, with a high and low of about 34 and 21 degrees respectively.
The weather in June & July is mild, with a high and low of 29 and 20 degrees Celsius respectively. There are showers, but they are usually of short duration and mainly late evening.
Days in August are very comfortable with a cool breeze and it is moderately cold at night. The average high and low temperature is 28 and 18 degrees Celsius respectively. Rainfall can occur, but it usually occurs at late evening or at night.
September to October offers Northwest monsoon with rainy days.
The monsoon itself is not as heavy in Karnataka as in the coastal regions of India and in a typical day it will be dry until afternoon and will rain most of the night.
Come October & November, the temperatures cool down and winter comes in around December, with this season lasting until February.